An adorable orange tabby named Oliver has earned his owner, Robin, over 100,000 followers on TikTok by sharing his hilarious, quirky antics. Robin rescued Oliver from the streets of Nashville when he was just a newborn – his eyes weren't even open yet! Baby Oliver was very sick at the time of his rescue, and it is unknown what happened to his mother.
Regardless of his condition, Robin committed to nursing him back to health. She bottle-fed him for weeks and allowed him to sleep on her chest anytime he wanted.
Pretty soon, Oliver became a healthy kitten, and it was at this time his unique personality began to shine.
While Robin's other house cats weren't thrilled with the family's new addition, their two dogs took a liking to Oliver immediately:
"The dogs were obsessed with him because he was so tiny and crazy" – Robin
And though he had found playmates in his canine siblings, Robin explains that Oliver could never find a best friend. That is until he discovered Tupperware containers:
"Even though he gets along with the dogs, he never quite found one buddy or best friend, so when he found the Tupperware, it was as if he finally found his companion." – Robin
Oliver befriended his first Tupperware container while exploring the kitchen pantry. Soon after, Oliver became so fascinated with the newfound toy that he earned the nickname "Container Cat."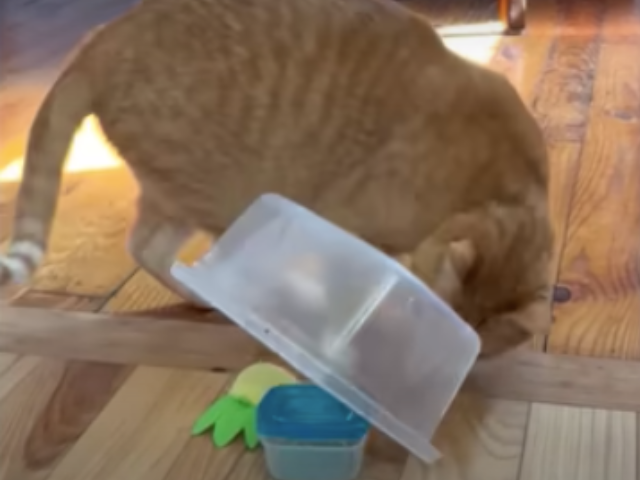 TikTok users love to watch videos of Container Cat playing with his Tupperware, and Robin loves to share them! However, she still needed to keep some of the Tupperware for her own use, so she did what any loving cat mom would do:
Robin bought Oliver twenty of his own Tupperware containers.
In the viral video, Oliver is first seen playing with the shipping box. It's not until his mom starts opening up the containers that Oliver realizes how incredible the gift truly is.
Oliver now has twenty brand new friends.
Since the original unboxing video went viral, Oliver has received other gifts in the mail as well. Pet supply giant, PetSmart, sent Oliver a package filled with toys and treats so that they could be a part of the next unboxing!
Robin is thrilled that Oliver has come out of his shell and has finally found something that brings him so much happiness. She also shares that he recently found joy in playing with milk cartons. We, along with all of TikTok, can't wait to see what clever antics Oliver gets up to next!
Featured Image: TikTok